The Grove Luxury Cat Hotel
Burton Road, Whittington Hurst, Lichfield, Staffordshire WS13 8QN
Phone Lynsey & Carl Randall on 01543 735375
please mention you found us on BoardingCatteries.org

Welcome to The Grove Luxury Cat Hotel

Burton Road, Whittington Hurst, Lichfield, Staffordshire WS13 8QN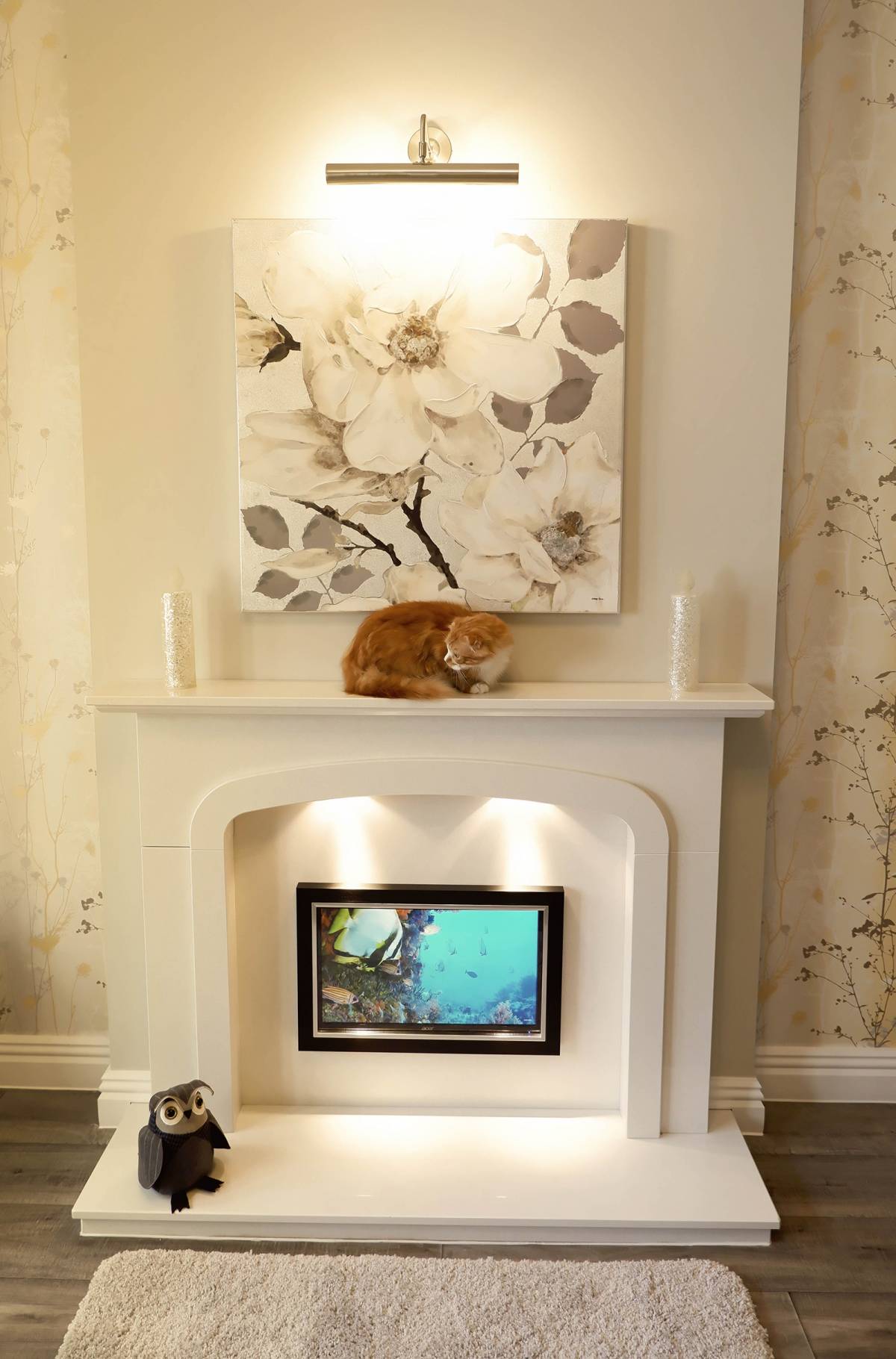 The Grove Luxury Cat Hotel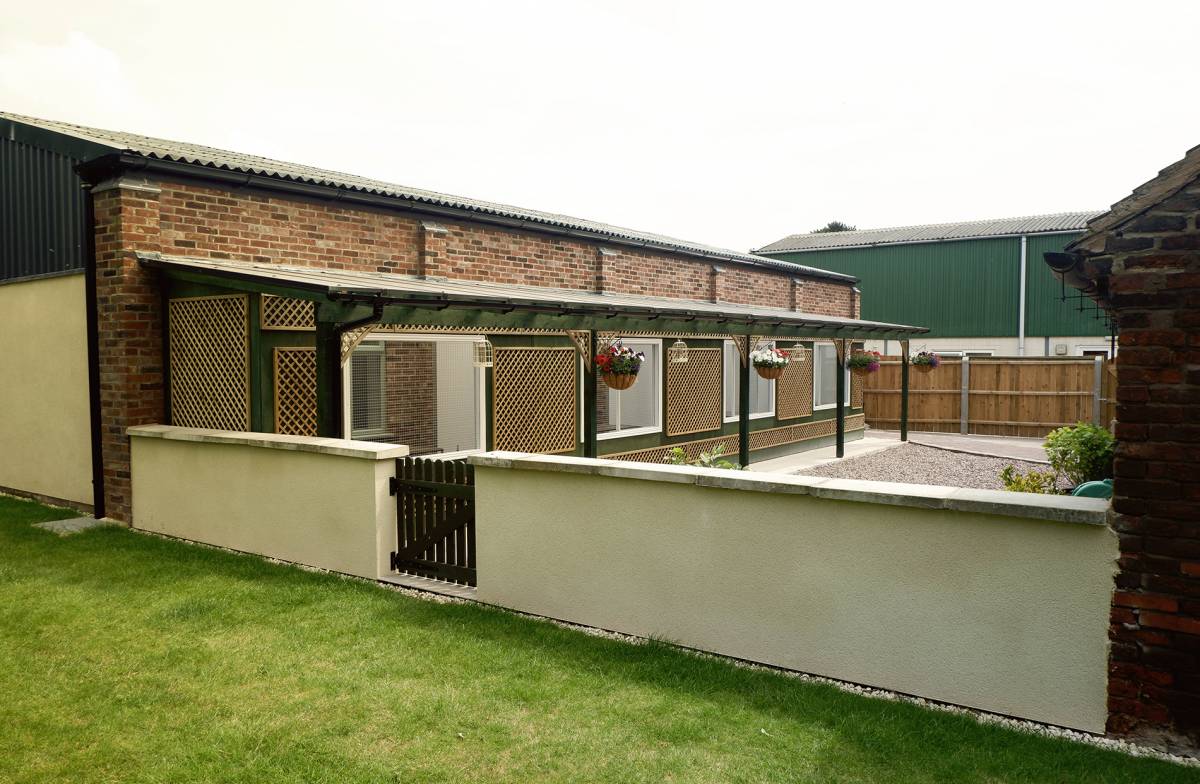 Looking towards the cat hotel and gardens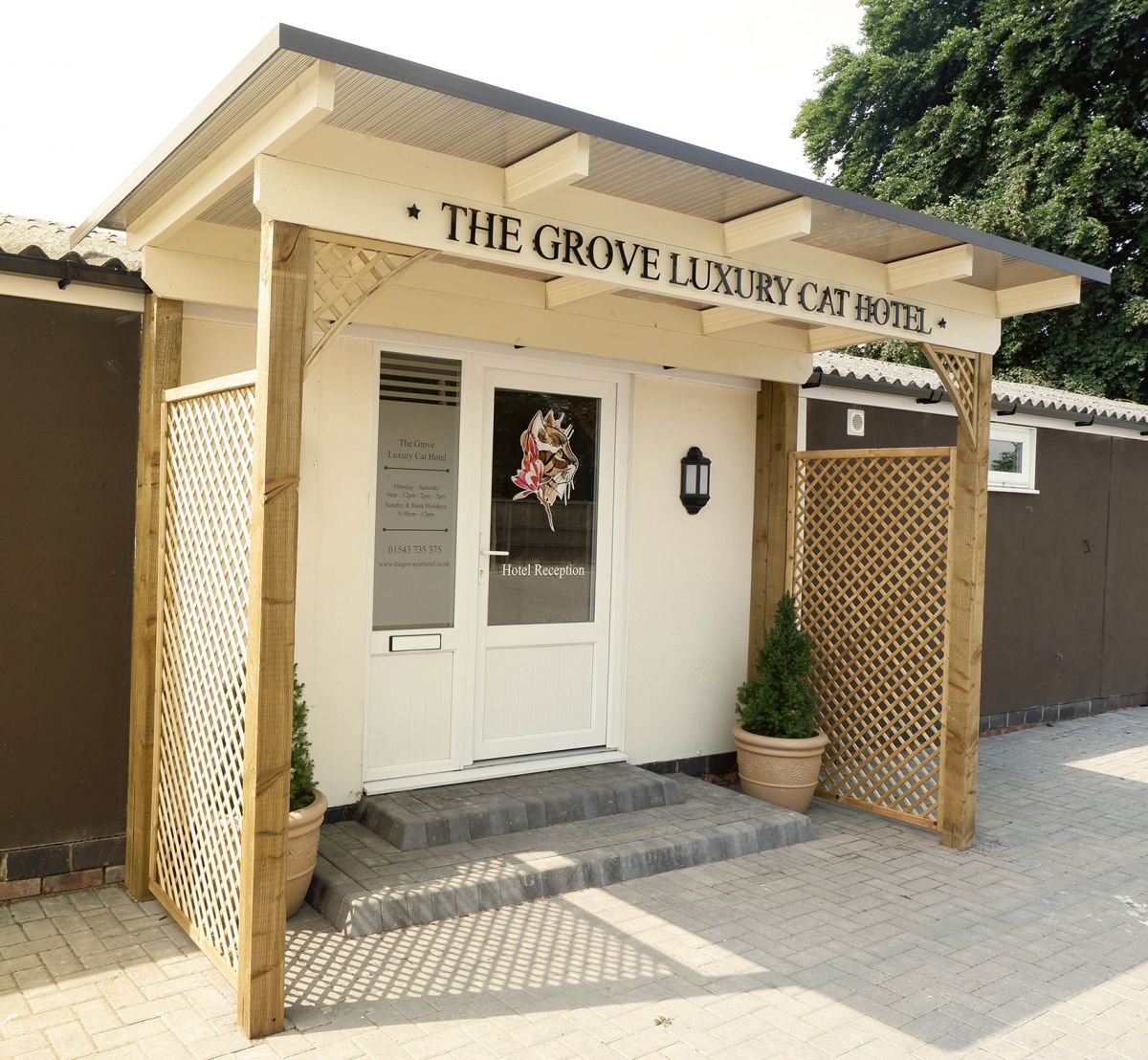 Entrance to our reception area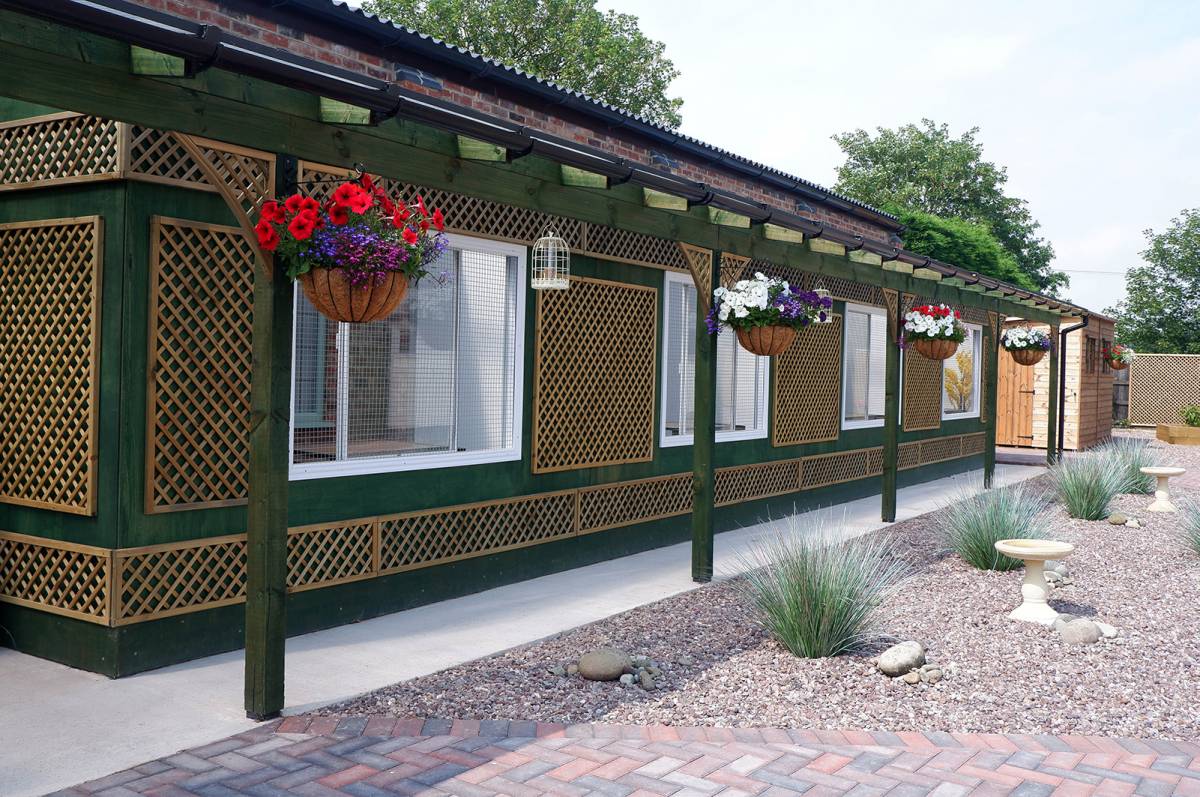 Hanging baskets outside the cat conservatories, leading directly from their rooms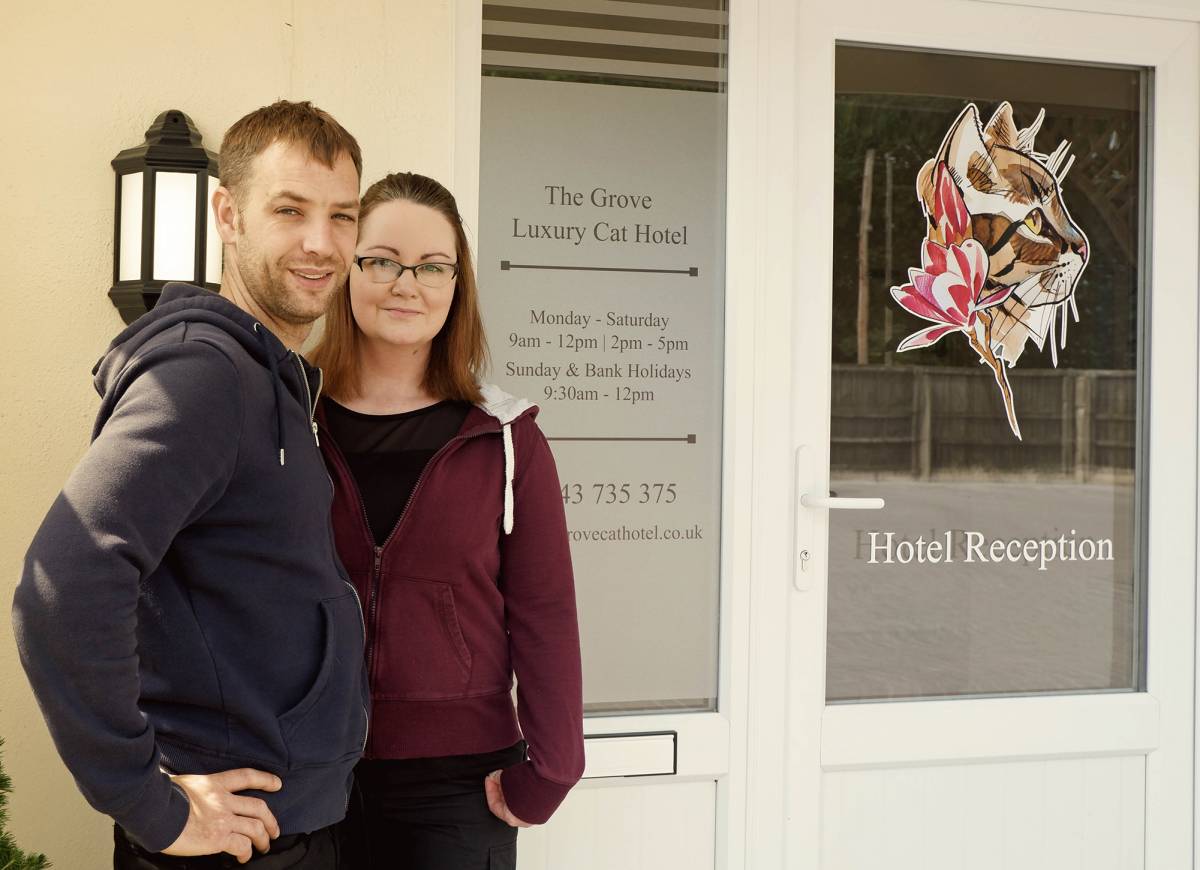 Lynsey & Carl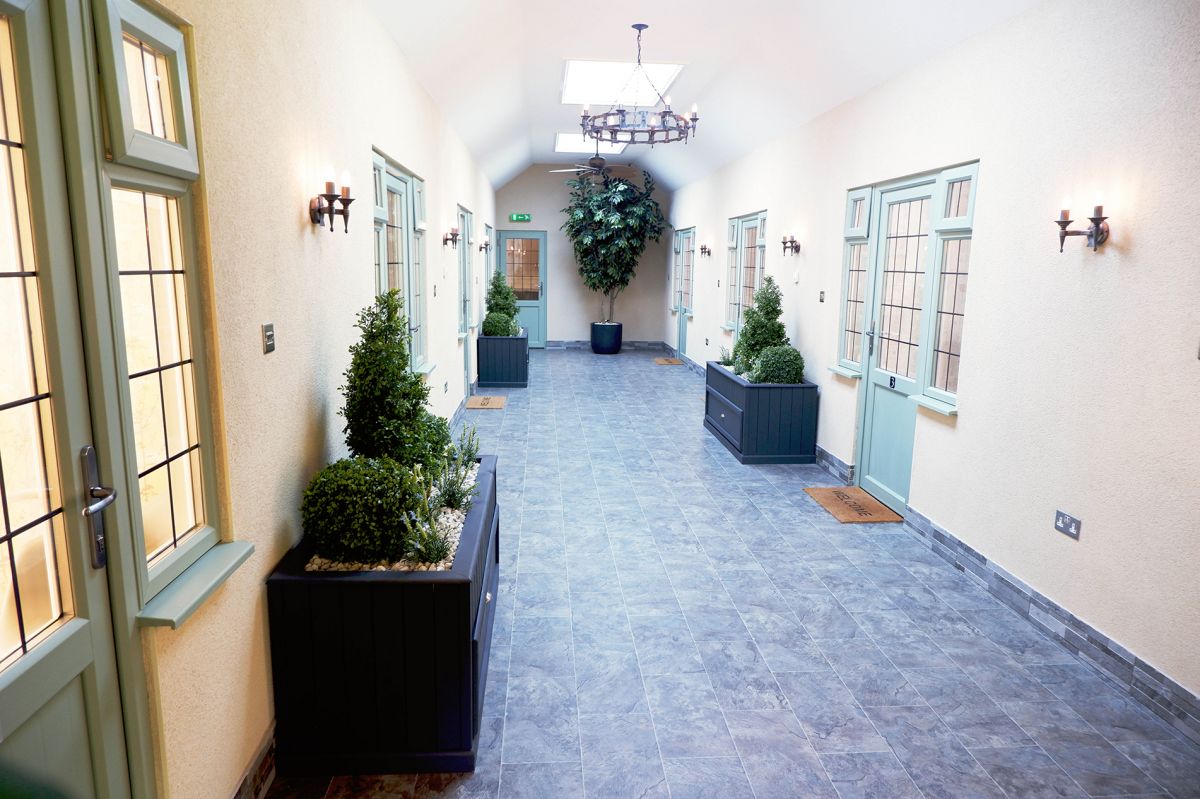 Our welcoming cat hotel safety corridor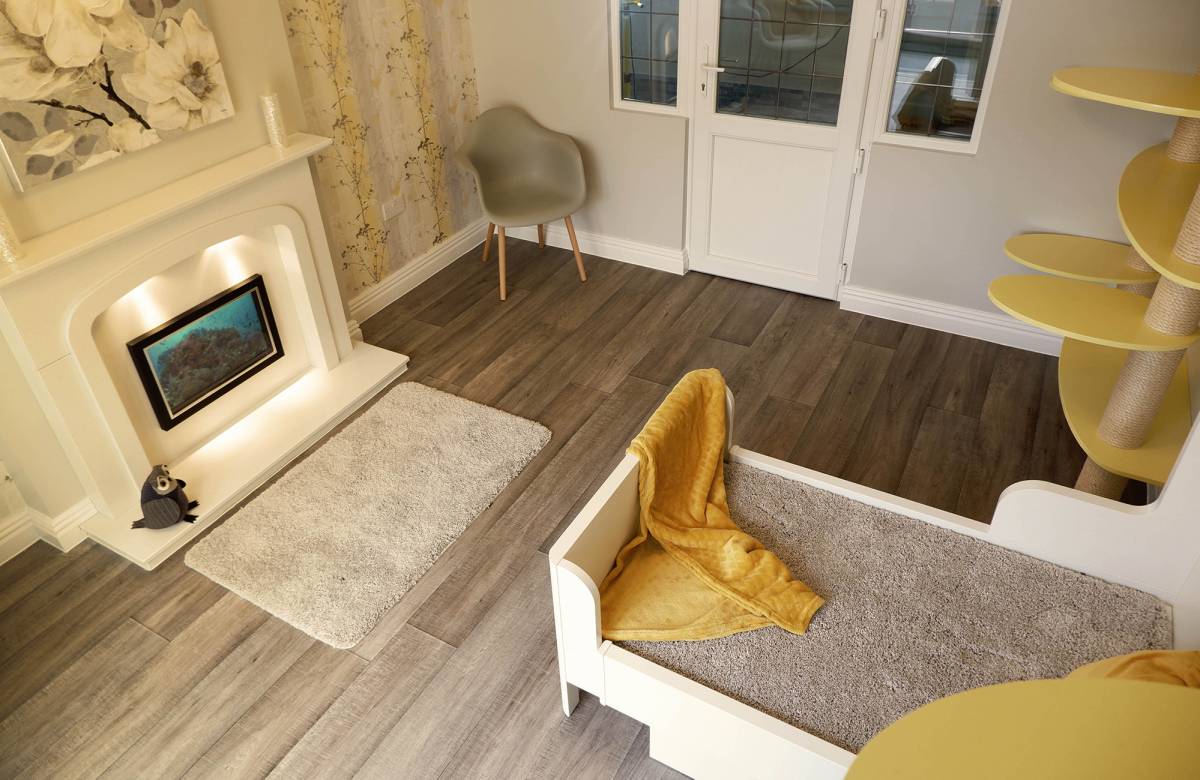 Lovely comfy bed awaits your cat, where they can watch cat TV in bed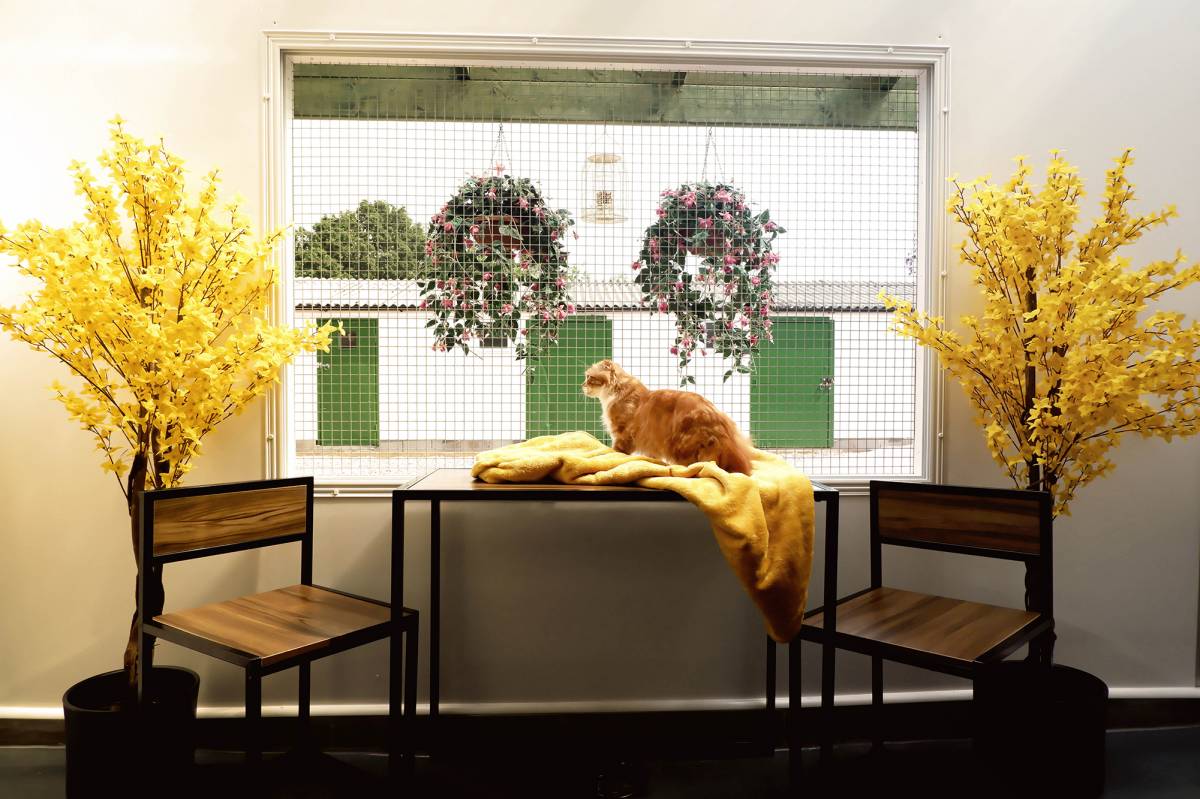 Spacious, bright, fun cat conservatory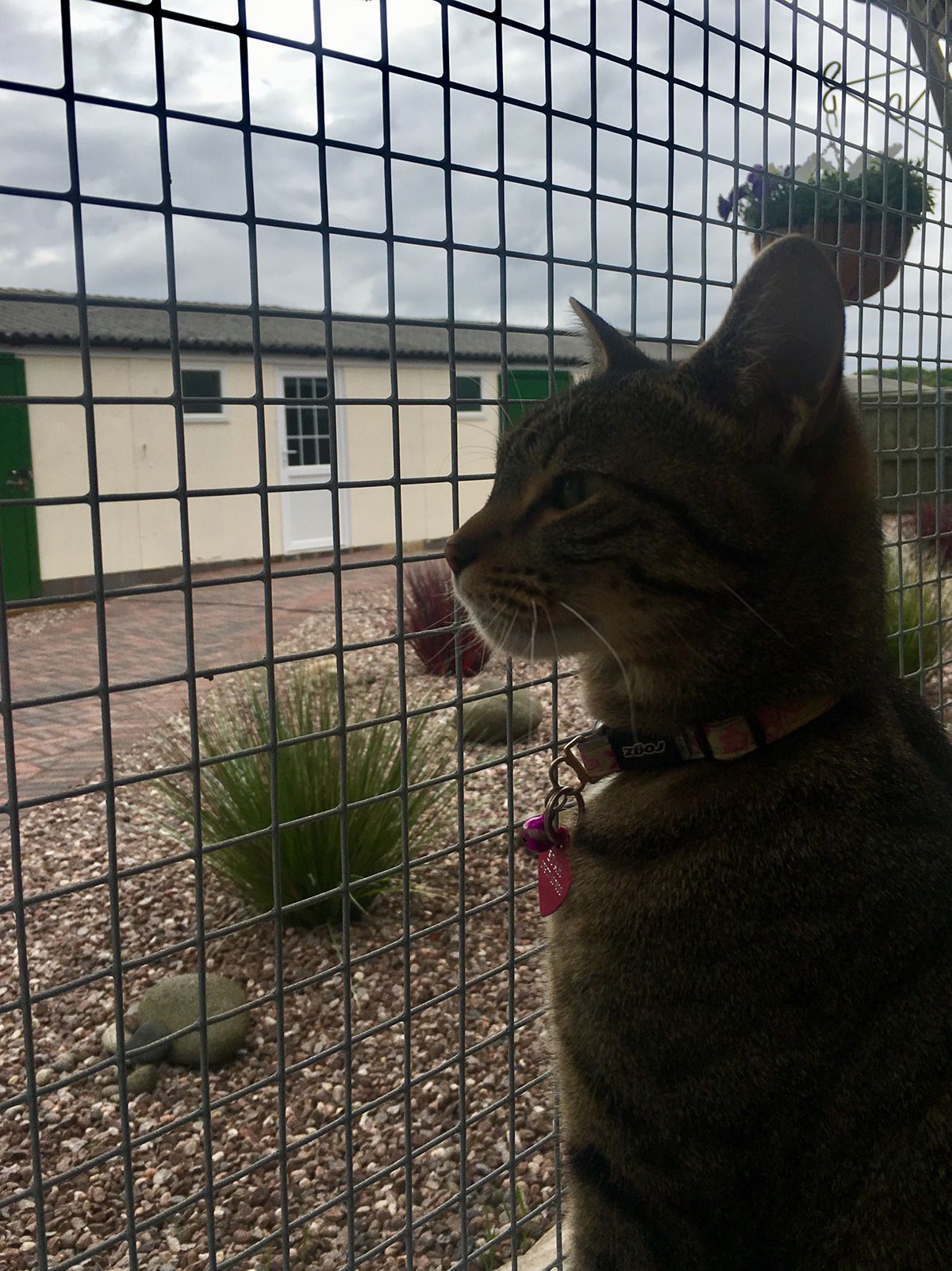 The gardens can be viewed directly from the cat conservatory or inside from your cats room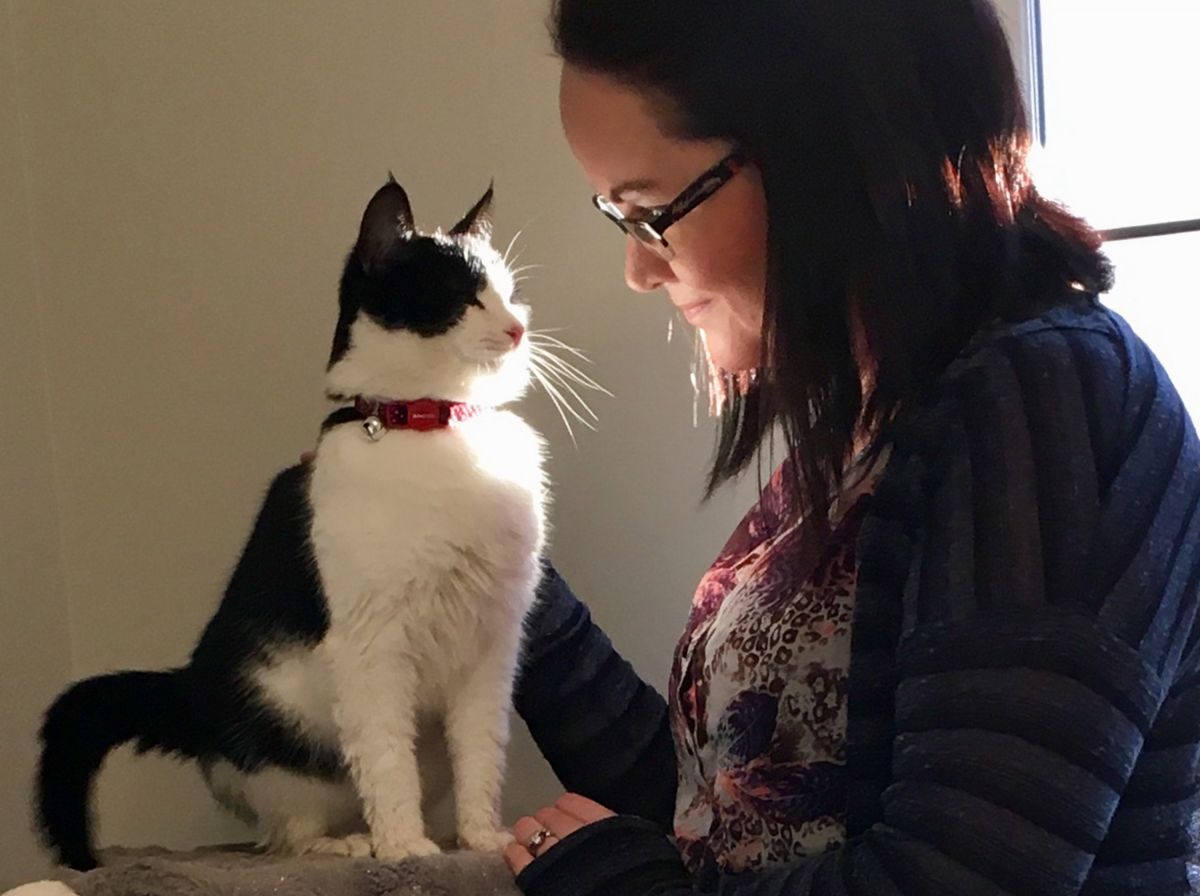 Supercat with Lynsey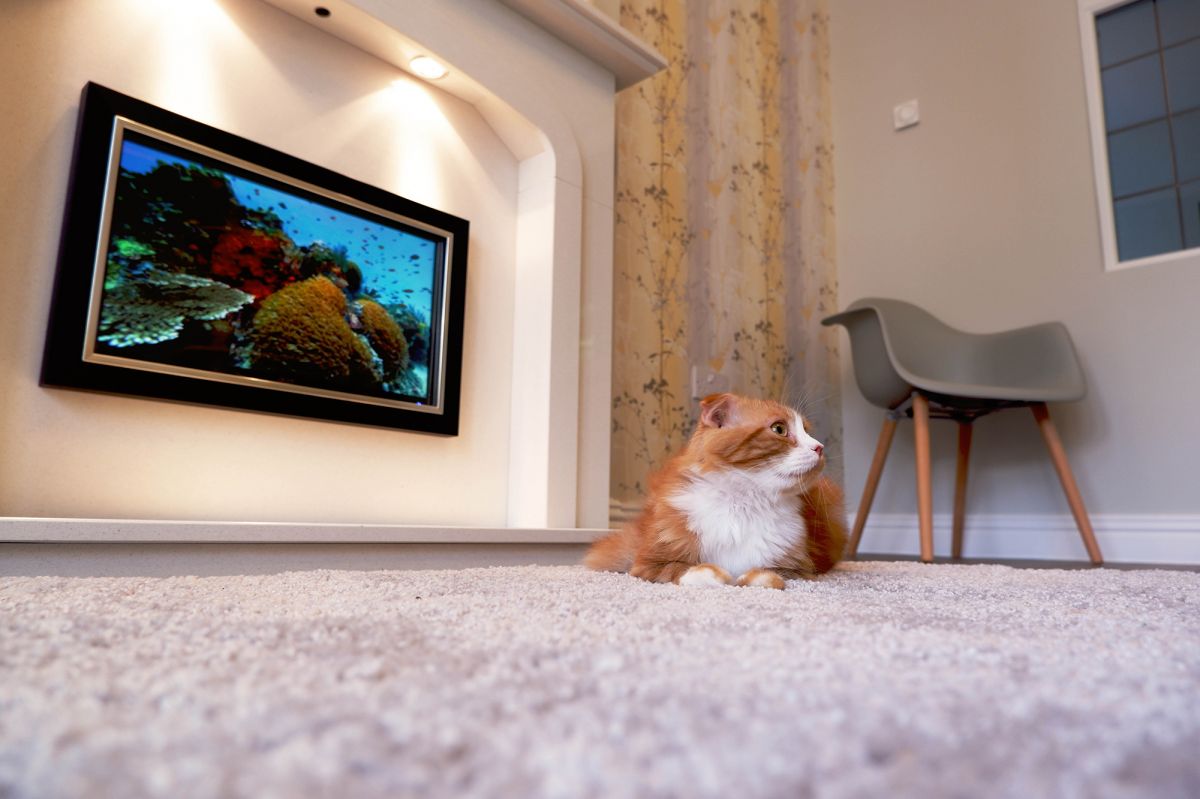 Cat TV, comfy play rugs, interactive toys, scratching posts
About Us




We're proud to say we are a cat only establishment.
This provides the most calm & restful environment possible for cats where there is no noise or proximity to dog boarding or kennels.





Carl, Lynsey, Joseph and Noah welcome you to The Grove Luxury Cat Hotel

We are a family of animal lovers and have carried out extensive research into the care and wellbeing of cats to create the bespoke Grove Luxury Cat Hotel which is the perfect home from home for their feline guests.


The health, safety and wellbeing of their guests is of the upmost importance to us, so you can relax in the knowledge that your cat/s are having a wonderful holiday away from home.

---

Opening Hours & Visiting

Monday-Saturday:

9am to 11.30am and 4pm to 6pm.

Sundays & Bank Holidays:

9am to 11.30am.

---

Staff & Knowledge

We have 2.0 full-time cattery staff.

Our staff ratio is:

1 Staff : 4 cat units

Lynsey and Carl bring a wealth of animal experience to The Grove Luxury Cat Hotel. Lynsey grew up on Grove Farm, surrounded by animals and spending school holidays helping at her Grandmothers cattery in Aldridge. The Randall family live on site with both Lynsey and Carl working full time in the luxury cat hotel to provide the dedicated one to one care, attention, entertainment and stimulation that their guests require.

---
Cattery Services
We have

8 Cat units


Our cattery was built in 2019 and licensed for up to 32 cats (maximum).

We're proud to say we have a maximum of 8 units in any one building.
(The ideal is a maximum of 20 units in a building, as the less cats, the calmer & less stressful it is for them)
We're proud to say we have a maximum of 8 units in any section of any building.
(The ideal is a maximum of 10 units per section)

---

Safety, Security & Protection

Our units are Indoor only and Walk-in style, built from:

Brick/block/stone:

UPVC:

Timber:

Metal:

Safety Corridor

Safety, Security & Stress Reduction

Units have Full height walls: , Full height doors: solid barrier, escape-proof ceilings: .

Units used ONLY for cats from the same family, and NEVER SHARED with cats from other households:

Are other cats obscured from view (they cannot directly see into adjacent units):

Hygiene, Disease & Injury Prevention

Sneeze barriers (disease & stress prevention):

Services

Collection & Delivery
Collection and delivery of cats shall be made during our normal opening hours and your cat must be carried in a secure carrier which is left with us during their stay.

We don't provide kennels ourselves, but my brother and sister-in-law run the famous Grove Luxury Dog Boarding on the same site, but this is a completely separate business and our cat hotel is completely seperate and self-contained.

| Services for Cats: | | Other Services: | |
| --- | --- | --- | --- |
| Collect & Return: | | Pet Supplies: | |
| Professional Grooming: | | Kennels (Dog Boarding): | |
| Webcam Service: | | Small Animals Boarding: | |
| Sends updates while you're away: | | Stables: | |
Cat Accommodation
Sleep Areas

Sleep areas have

Underfloor

heating

Is there heating in EVERY unit:

Our suites

Our luxury suites incorporate everything that we deem to be essential to ensure the comfort and safety of your cat/s and provide a real home from home experience.
Each of our suites are over six times larger than that required by the cat welfare standards. This enables your cat/s to spend their break from home in a space just like home which is also perfect for feline families.

Luxury furniture and fittings


All our suites have:

Individually controlled underfloor heating to ensure that the temperature in each hotel room is tailored to the comfort of each guest
Marble fireplaces with inset TVs
A bespoke made, soft and comforting cat bed
A large tailor-made cat climbing wall with scratching posts offering both exercise and stimulation
A full suite of toys for playtime on their own and with Lynsey and Carl
Individually controlled lighting for each suite for those cats used to a night light at home
Private and exclusive Garden room

---

Exercise Runs

Attached runs: Covered runs:

24/7 hr access between sleep & run via a cat door:

Garden Rooms

We understand that many cats enjoy spending time outdoors, that's why each of our luxury suites includes its own private garden room.

Equipped with furniture including a place to rest and plenty of toys, this tranquil space gives our guests the opportunity to safely benefit from the fresh air and stimulation of the outdoors whilst enjoying the exclusive courtyard views

---

Unit Sizes Available

Each of our suites are over six times larger than that required by the cat welfare standards. This enables your cat/s to spend their break from home in a space just like home which is also perfect for feline families.

Undersized:
ALL units have sleep areas of:
at least 3x3ft x 6ft high
AND...
ALL units have attached runs of:
at least 6ft long & 6ft high
At least 4 x 4ft x 6ft high:
At least 5 x 4ft x 6ft high:
At least 6 x 4ft x 6ft high:
Bigger:

---

Views from the Cat Units




Bird feeders directly outside the cat units:

We're proud to say we provide plenty of fresh air & a direct view of nature and the outdoors directly from our cat pens.
(This is essential for the cats' stimulation and interest, they need everchanging and fascinating things to watch from the safety of the cat unit for the duration of their stay)

---
Activities
Interaction with Staff

Cats get activities/play encouragement with staff:

We're proud to say cats DO get one-to-one interaction, activities and play with us here. We know how important it is (mentally and physically) for cats to play, chase, sniff, jump, run around and stretch their legs - but most of all to have personal relatationship with us. In other words, for cats to be cats!

Whether it be chasing a laser dot, pouncing on mice toys or some cuddles and fuss at The Grove Luxuary Cat Hotel we are all about keeping our guests happy.

---

Cat Playtime & Toys

Each suite has its own TV, puzzle games and hidden treats for self entertainment while we are spending time with other guests.

---

Hiding Places

Hiding places provided to feel safe, play & have fun:

Our custom made cat beds each have a built in hiding place for those cats that just want to chill!

---

Vantage Points - Being Up High

Are at least 2 shelves/platforms provided:
(including at least 1 that allows cats to stretch out fully)

Each suite has its own custom made 'climbing wall' with plenty of space for the whole feline family.

---

Scratching Provision

Scratching post/mat provided:

Each suite has mutiple scratching posts built it the 'climbing wall' for your cat to sctrach away.

---
Cat Care
Comfort Items & Settling In




Comfort items from home allowed:

We're proud to say we DO allow & encourage comfort items for cats . We know how important it is to help your cat relax and feel settled quickly, more at home with us. This is such an easy way to comfort your cat. After all, we all love our home comforts don't we!




Feliway Therapy used:

We're proud to say we DO offer Feliway therapy here to calm and reassure cats. We believe in doing as much as possible to help your cat have a happy stay with us, especially when such great, positive benefits to cat welfare can be provided so easily and simply.

It is always advisable to bring something that smells familiar to your cat, as it helps them settle into their new environment so much faster.

---

Nutrition

Diet

Will feed the same diet as at home:

We're proud to say we DO offer to feed your cat the same diet as at home. We understand how important it is to help your cat settle in quickly and easily without any digestive problems that would be caused with a change of diet.

Will you feed special/prescription diets:

Will feed natural/organic diets:

Provide fresh cat grass:

Provide fresh catmint:

Special Dietary Requirements
If your cat is on a special or veterinary diet, we may request that you provide your own food, which will be fed in accordance with your instructions.

Water

Water & food kept at least 2ft apart:

For multiple cats (from the same family)...
Water & food kept at least 2ft apart from other cats:

---

Cat Grooming

All coat lengths/types groomed:

---

Cat Litter

| | |
| --- | --- |
| Litter trays kept at least 3ft/1m away from food & water: | |
| Litter tray per cat: | |
| Can bring own cat litter: | |
| Stock Worlds Best Cat Litter: | |
| Stock Cat Attract Cat Litter: | |

You are welcome to bring your cat's favourite cat litter.

---
Cat Needs
Easygoing Cats

Care of easygoing cats:

---

Active Cats

Care of active cats:

---

Big Cats & Large Cat Breeds

Care of big & large breed cats:

---

Timid & Nervous Cats

Care of shy & nervous cats:

---

Special Needs

Care for cats with special needs:

At The Grove, we give any required injections and medication to your cat at no extra cost.

We care for cats with:

Age considerations:

Caregiving

Kittens 3-12 months:
Give tablets:
Senior Cats 10+ years:
Give drops:
Elderly Cats 15+ years:
Give injections:
Give Ointments:
Accept neutered cats only:
Professional weighing scales

| | | | | |
| --- | --- | --- | --- | --- |
| Allergies/ Allergenic | | | Ear/Eye Problems | |
| Arthritis/ Arthritic | | | Heart Disease | |
| Asthma | | | High Blood Pressure | |
| Blindness | | | Hyperthyroidism | |
| Deafness | | | Kidney Disease | |
| Diabetes/Diabetic | | | Liver Disease | |
| Digestive Problems | | | Pancreatic Problems | |
| Disabilities | | | Seizures/ Seizures/ Epilepsy | |
| | | | Skin Problems | |
0 Latest Guests
Latest Guests from our Gallery
Latest Video from our Gallery
Latest Customer Testimonials

0 Customer Testimonials
1 News Articles
Latest News
25th Sep 2019


The Grove Luxury Cat Hotel Achieves The Best Available Star Rating From Lichfield District Council

We are proud to announce, that following a recent licencing inspection, The Grove Luxury Cat Hotel has achieved the highest star rating possible for a new cat boarding business from Lichfield District Council.


Lynsey and Carl Randall, owners of The Grove Luxury Cat Hotel said:
"We were delighted to welcome the inspectors to The Grove Luxury Cat Hotel and are proud to have exceeded their new stringent welfare standards. They fully inspected our accommodation, procedures and insurance and seemed really impressed with what they saw.
Fees & Vaccinations
Fees for basic care package (includes water, food, litter, heating & any VAT/tax)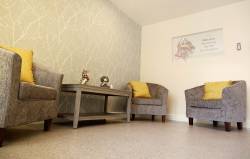 | | |
| --- | --- |
| Total for 1 Cat: | 20.00 |
| Total for 2 Cats: | 29.00 |
| Total for 3 Cats: | 38.00 |
| Total for 4 Cats: | 47.00 |
Further Information
£20 per Cat per day plus £9 per day for each additional family cat sharing the same room.
Due to our rooms being so large, cleaning time and sanitizing costs are greater. Therefore, our minimum booking is for 2 days and charges are made per day.
However, we can do a single day rate which is £30.
---
Vaccinations
Because the health and welfare of our guests is of paramount importance to us, we cannot accept any cat without proof of up to date inoculations. Cats must also be treated for parasites and worms on a regular basis. Full pre-existing & relevant medical history must be declared on the booking form.
Contact Us, Map & Directions
Bookings, Queries & Appointments

The Grove Luxury Cat Hotel
Burton Road, Whittington Hurst
Lichfield
Staffordshire WS13 8QN



Visit our Facebook page
Lynsey & Carl will be happy to discuss your queries about The Grove Luxury Cat Hotel including bookings, availability, and making an appointment to visit.

Phone Lynsey & Carl Randall
on 01543 735375

Please mention you found us on BoardingCatteries.org

---

Map, Directions, and Driving Distance/Time

Directions

The Grove Luxury Cat Hotel is located approximately one mile north of Whittington on the outskirts of the cathedral city of Lichfield in the Midlands and is easily accessible from both the A38 and A5.
We are only around 30 minutes away from both Birmingham and East Midlands Airports, so you can drop off your cats for their holiday before you're off on yours.

No Map & Satellite Picture yet
The Grove Luxury Cat Hotel
Phone Lynsey & Carl Randall on


01543 735375


please mention you found us on BoardingCatteries.org